The Story of a Boy Who Despised Christmas Will Make Everyone Love It More – WebWire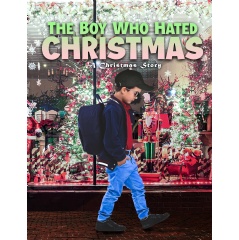 People might think that there is no way someone would hate Christmas. The bright lights, cool nights, festive environment, the gifts, and of course, the unity it brings for people and their loved ones. The season is indeed a jolly one. However, some actual people can't wait for this prolonged occasion to be over. There are over fifty ways you can call someone who hates Christmas. One of them, and probably the most popular way is to call them a grinch. People have a lot of reasons to enjoy the season, but to some, it brings sadness and melancholy. Such is the story of Calvin in the book, "The Boy Who Hated Christmas: A Christmas Story," and in this book, Miriam Madison will redirect us back to the real reason for the celebration.

"The Boy Who Hated Christmas," is a story that follows Calvin, a boy who lost his parents on Christmas day. Calvin is a grinch or someone who hates Christmas. He wholeheartedly despises everything that represents the season because it brings sadness to him and makes him miss his parents more. However, one fateful dream leads him back to a manger during the first Christmas night where he learns the story and purpose of the Christmas baby.

Will this dream change his perspective on Christmas? Can he be happy again?

The book is a perfect gift for children. It introduces Jesus to them as the real reason why we celebrate Christmas. It will cultivate their faith and how they know Jesus. On top of it, it also imparts a valuable lesson; No matter how bad your situation is, Jesus will deliver you from it, for He came to save us and give us joy. The book also comes with colorful illustrations that will help retain every kid's attention. Madison also wrote the book in a fun and simple way, making it a good material for practice reading.
Join Calvin as he rediscovers the joy he lost on Christmas day. Grab your copy now and reintroduce Christmas to every child.

Book available at https://youronlinepublicist.com/product/the-boy-who-hated-christmas-a-christmas-story-by-miriam-madison/

The Boy Who Hated Christmas: A Christmas Story
Author: Miriam Madison
Publisher: Your Online Publicist
Publication Date: March 2021
Genre : Children's Book
Target Audience : Children and Parents.

About the Author
Miriam Madison continues her passion for writing. Her book is reflective of life as an ever evolving process. Her life has always been about evolution and change. Her degrees in education is well reflected on that. Her career in education encompasses that of teacher, principal, and system-level administrator. She has been a special advocate for children. Her book is about ordinary people and children as their lives and emotions change. It is about their pain, joy, suffering, and journey towards fulfillment. Between the pages of this book, the American Dream lives in children. They are the true keepers of that dream.